Circulating fluidized bed technologies are characterized by unequaled fuel flexibility, high efficiency, and the ability to employ a diversity of fuels, including fuels which are difficult to burn.
Circulating fluidized bed (CFB) boilers
are used for steam, heat and power generation in industrial productions. ZBG Boiler manufactures and supplies several types of CFB steam boilers and hot water boilers.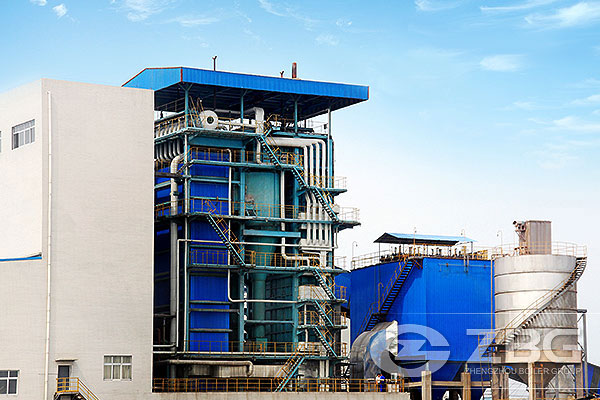 SHX Circulating Fluidized Bed Steam Boiler
SHX series CFB boiler is the forth generation circulating fluidized bed steam boiler developed by ZBG Boiler. Rated Evaporation: 10 to 75TPH, rated steam pressure: 1.25 ~ 3.82 MPa, rated steam temperature: 184 ~ 450 ℃. And the steam boiler has long time continuous operation ability but with low failure rate.
DHX Circulating Fluidized Bed Hot Water Boiler
DHX series circulating fluidized bed hot water boiler is mainly used for large-scale central heating and business systems. Our single drum circulating fluidized bed boiler can burn various coal fuels even very bad grade coal, it has high efficient desulfurization, low-temperature combustion, and low Nox (nitrogen oxide) emissions.
Circulating fluidized bed power plant boiler
This type of fluidized bed boiler is mainly used for enterprise-owned power plants, thermal power plants for power generation or other purposes. The CFB power plant boiler manufactured by ZBG Boiler through fluidized bed flow pattern reconstruction to achieve lower power consumption and plant availability increase, while maintaining the low coal CFB technology adaptable and pollution control cost advantages.
Circulating Fluidized Bed CFB Boiler Manufacturer
Circulating fluidized bed (CFB) technology is the best technology for multi-fuel combustion with the ability to use diverse fuels of differing quality, mainly used for large-scale central heating, production gas supply projects or the heating system of cities, various enterprises. The diversity of fuels ranges from conventional coal and biomass to alternative (biogenous residues, sludge, and refuse-derived waste fractions with high calorific value). ZBG is a preeminent
CFB boiler manufacturer
with Class A Boiler Manufacture and Design License, and exported to more than thirty countries and regions, such as the United States, Russia, South Korea, Costa Rica, Vietnam, Indonesia, Sri Lanka, etc., and the international market shares are increasing year by year.
WhatsApp/Skype:17719993430